Transitioning into the first year of school is an exciting and challenging time for children and parents alike. Uniquely our Flying Start Preschool Program has been lovingly put together to prepare our little ones for their first experience at school.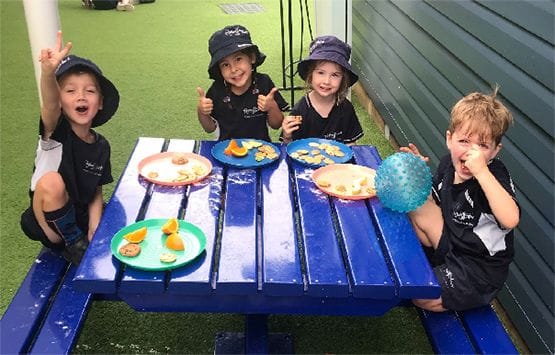 Playing and learning with other children to build on social skills is at the core of school readiness, and an effective transition. And more than that, our philosophies share the belief that community plays a central role in the growth of our personalities and beliefs.
The Preschool Program encourages self-driven learning and play. Led by our bachelor-trained teacher, the Preschool Team provide learning experiences and opportunities to develop essential social skills such as:
forming friendships

turn-taking and sharing with others

identifying their own and others feelings

self regulation when feeling sad, angry or anxious

treating each other with respect and kindness
Self-driven growth and learning through play
As well as being a part of our local community, our Preschool Program encourages children to express themselves as individuals and explore and develop their creativity using:
music

movement

health and wellbeing

mindfulness

language

literacy

science

self-care

the community around them
Why Flying Start Preschool is right for your family
Our qualified educators, management, and staff start every day the same way your little ones do: taking every day as a new beginning. We lead our preschool program with creativity, kind-heartedness, problem-solving, and open arms.
To see if Flying Start is right for your family, we encourage visiting us and seeing the difference for yourself.
Extensive school readiness/transition to school program, in the year before starting official School (Kindergarten).

Experienced Bachelor-trained educators

Purpose-built Preschool with specialised facilities

Government-approved for the purposes of Child Care Subsidy (CCS)

School hours and longer options are available

School Holiday program available

Convenient location (on St Anthony's Primary School grounds)

Canteen orders available, Monday, Wednesday & Friday

Uniform worn by Flying Start Preschoolers

Local family-owned and operated

Embedded in the Kingscliff community
Enquire, Enrol or Visit Flying Start Preschool
Our local family-owned and operated early childhood education centre is embedded in the Kingscliff community. We welcome children from all families and locations surrounding us. Planning to attend St Anthony's Primary School is not an enrolment requirement as we liaise with your chosen primary school, to assist with a smooth transition.
Contact us for more information, or book a tour for your family online now.

WHY FLYING START PRESCHOOL?
An extensive school readiness/transition to school program?
Experienced Bachelor trained Teachers
Purpose built Preschool with specialised facilities
Government approved for the purposes of Child Care Subsidy (CSS)
School hour and long day options available
Vacation Care available?
Before School Care & After School Care available
Convenient location on the grounds of St Anthony's Primary School and Kingscliff Public School
Local family-owned and operated
Embedded in our local Kingscliff Community